Learn Languages with Memrise - Spanish, French...
2.94
Learn Languages within Weeks
Do you want to learn a new language? If yes, then this app is the perfect tutor for you. Memrise: Learn Languages – French, Spanish & More is an amazing app that lets you learn any language you want by offering easy-to-follow lessons and tests. It enables you to learn words and phrases of new languages and then helps you remember them by providing a simple test to you. You will find yourself learning the new language at a very fast pace thanks to the engaging teaching method used by this app. It feeds you simple words first and then after you have mastered them, it moves on to more complex words and sentences. This makes learning languages an easier proposition for just about anyone.
Memrise: Learn Languages – French, Spanish & More has an intuitive user interface that meshes perfectly with its simple design and layout. You won't have any difficulty in navigating this app and can easily use it for learning languages that you aren't fluent in. However, before you start learning your new language, you need to sign up first. There are three options available in this regard. You can either sign up using your Facebook or Google IDs or use your email ID. The app will ask for a password before registering your account. After the sign-up process is complete, you will be asked to choose the languages that you want to learn first. There are various choices on offer but you need to pick one.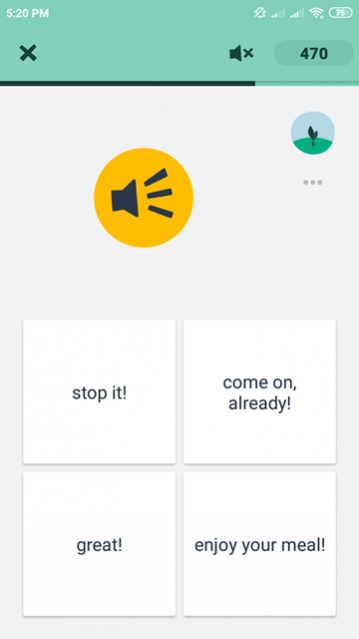 This learning app provides two different courses for each new language you want to learn. There is a beginner course that is aimed at people who know nothing about the language and need to learn from scratch. For those people who have a basic understanding of the language but can't speak it fluently, there is an advanced course on offer. The beginner course comprises mostly of simple words and phrases. The lessons are short and compact but provide you a stock of phrases that you can use in your daily conversations. What is fascinating is that you are taught the lessons in the voice of locals. So, you get to learn the exact pronunciation of each word. You can repeat the lessons if you don't understand the pronunciation the first time.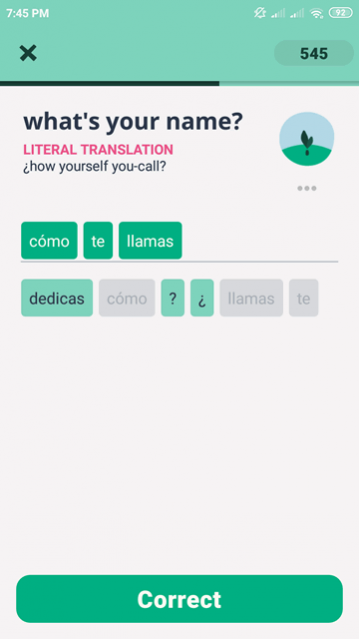 Memrise: Learn Languages – French, Spanish & More allows you to learn multiple languages simultaneously. This means that you can pick a beginner course in Arabic while you are doing the advanced course of Spanish. To make the learning process easier to remember, this app offers simple tests and quizzes to you after each lesson. These tests are in the form of MCQs (Multiple Choice Questions). You just need to pick the right option from the available choices. If you get the answer correct, you will continue with your learning. However, if you fail, the lesson will be repeated and you will be quizzed again. You can learn languages within weeks of starting if you commit to a course and buy a subscription package to unlock more lessons.
Features:
Intuitive user interface
Simple design and layout
Lots of languages to learn
Beginner course for new students
Become a master with the Advanced course
Learn small words and phrases
Simple lessons that are easy to follow
See the translation in your language
Pronunciation guides to learn the correct pronunciation of words
Answer simple quizzes to consolidate your learning
Offline mode for learning even without internet
Earn a higher rank by answering the quiz correctly
Learn multiple languages simultaneously
Buy a subscription package to unlock more lessons
Conclusion:
Memrise: Learn Languages – French, Spanish & More is an app that is designed for people who want to learn to speak multiple languages. It provides them the opportunity to learn any new language and start speaking it fluently within a few weeks. It is an excellent app to have on your phone if you want to learn languages quickly.
---
Add a review
Tell us your experience with
Learn Languages with Memrise - Spanish, French...
2.94
RELATED PROGRAMS
Our Recommendations
---
---
---
---